A Southwest Florida getaway is always a treat for travelers looking to make the most of fun under the sun and on the sand. It's also an opportunity to get out on the water in style and when you're looking for boat rentals to enjoy while you're here, the following options are sure to inspire a great time on the waves!
Capture the Fun of Time on the Water in Cape Coral
Those who set their sights on a Cape Coral stay and are looking to rent a boat for fishing, wildlife watching, or a sunset sail will want to start at Cape Coral Boat Rentals. Located at 5828 Cape Harbour Drive, Cape Coral Boat Rentals is open daily from 8:30 am until 6:00 pm and offers guests access to a wide variety of high-quality vessels to enjoy for a half-day or full day of adventure. Whether you're looking forward to enjoying a deck boat or a fishing boat, these rentals infuse quality and comfort into your time on the water.
Pine Island Boat Rental Options
For travelers that are taking time to enjoy a Pine Island stay and are hoping to maximize their boating excursions, Speed Dock Boat Rentals Pine Island is the place to begin. This company serves Pine Island, Matlacha, St. James City, and Bokeelia alike by providing access to rentals that are ideal for fishing or exploring the mangroves. Inventory here includes pontoon boats and deck boats as well as kayaks that can be rented for a half-day, full-day, or by the week. Boats through this company come with stereo systems, GPS navigation, swim ladders, life jackets, coolers, floatation cushions, dock lines, and fenders to name a few of many!
Captiva Island Adventures Await on the Water
Enhance the boating fun on Captiva Island when you partner with Jensen's Marina. Located at 15107 Captiva Drive, this locale offers up hassle-free access to quality vessels ranging from pontoon boats and Boston Whalers to Makos as well. Boats can be rented to accommodate up to 12 people at a time while Center Console boats can accommodate up to 5 passengers for a small group outing. Half and full-day rentals are available through this marina-based company that's been serving Captiva Island for more than 40 years.
Sanibel Island Experiences
Tarpon Bay Explorers in Sanibel give travelers an opportunity to rent everything from pontoon boats and Hobie fishing kayaks to stand up paddleboards and canoes when visiting Sanibel. Situated at 900 Tarpon Bay Road, this premier provider of outdoor fun and recreation opens daily at 8:00 am. Whether you opt for a full day of fun or a half-day adventure, be sure to pair your boat rental with one of their top-notch nature tours that gives you a new perspective on the wildlife in the area alongside a knowledgeable and friendly guide.
Book Today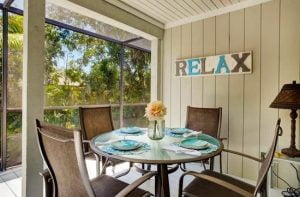 No matter when you make your way to Florida, Dream Vacation Rentals has the home-away-from-home you need to top it all off in style. Reach out today to learn more about our exciting area property options and how we can help you turn travel plans into a reality soon.
Browse our properties and start planning your dream getaway to Sanibel and Captiva Islands today!