No matter when you make your way to Sanibel Island, you're in for a tret! That said, there's something extra special about a holiday celebrated here when you're looking for even more to enjoy. The following are some of the top holiday activities and attractions to check out the next time you're excited to make the most of a Sanibel Island adventure.
March Seashell Madness
If your Sanibel Island getaway has you heading this way towards the beginning of the year, March is the ideal time to enjoy the annual Sanibel Island Shell Festival. While this might not be a holiday celebrated throughout the rest of the country, on Sanibel Island, it's a fan-favorite among locals and visitors alike! This highly anticipated event celebrates Sanibel Island's exciting reputation as a world-renowned shelling island! Guests are invited to head over to the Sanibel Community House and browse artistic exhibits, shop vendor booths, enjoy crafts, watch demonstrations, savor fantastic food, music, and much more! It's a family-friendly event you simply won't want to miss out on.
Celebrate the Fourth of July in Island Style
The fourth of July is a great time to gather with family and friends and make the most of fireworks, amazing BBQs, and patriotic musical performances too. This year, consider elevating the holiday fun even further with a trip to Sanibel Island! Each Independence Day, Sanibel Island comes to life in red, white, and blue style with an old-fashioned hometown parade down Periwinkle Way. Throughout the day, you'll find plenty of park picnics going on as well as an island-wide Road Rally to enjoy! A spectacular fireworks display is launched just off the causeway over the water putting a picture-perfect end to your day of holiday fun.
Celebrations to be Thankful for in November
When you're excited to spend Thanksgiving on Sanibel Island, you'll find there are unique activities to add to your itinerary to round out the fun! November marks the arrival of the American Sand Sculpting Championship held in nearby Fort Myers Beach. This event sees master sculptors flock to Florida from across the globe to put their one-of-a-kind sand sculpting skills on impressive display. In total, spectators are treated to more than 2,000 tons of sand sculpted into incredible works of art to admire. This one is bound to be an experience you won't soon forget.
Dazzling Lights in December
December on Sanibel Island means it's time for the Sanibel Luminary Festival once again. This beloved event is often viewed as the pinnacle of the holiday season here and includes a Luminary Trail that opens the first weekend in December. When the sun goes down, this trail illuminates Periwinkle Way and businesses stay open to offer guests refreshments and gourmet delights alike. There is sing-along caroling on the trolley and a nativity walk included in the fun as well. Holiday music fills the island, making it simple to slip into the holiday spirit as well.
Book Your Getaway Today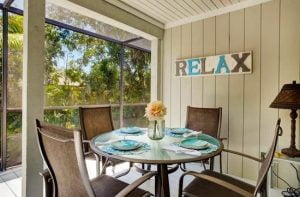 When travel plans bring you to Sanibel Island over the holidays, the team at Dream Vacation Rentals is here to make sure you have luxurious, inviting, and stylish accommodations to meet the moment! Reach out today to learn more about our exciting options and to start planning your trip.
Browse our properties and start planning your Dream getaway to Sanibel, Captiva, and Pine Islands today!