Sanibel Island is a tantalizing vacation destination for travelers from across the map. Those seeking sun, sand, and surf in abundance will find what they're looking for and more in this locale year-round. However, it's also a destination designed to be a foodie's dream come true. Finding a fantastic Sanibel eatery is a breeze when you set your travel sights here. If you're the type who prefers to pair a plate and drink with fresh air and inspiring waterfront views, Sanibel Island is great for you too!
The following are a few of the best outdoor dining Sanibel Island stops to explore while you're here. Whether you're looking for sensational seafood selections or crave a cocktail that can be enjoyed from a spacious patio overlooking the waves, these Sanibel Island restaurants on the beach are bound to please. 
Restaurants on the beach with Outdoor Seating on Sanibel Island You Won't Want to Miss
Outdoor dining Sanibel Island experiences are bound to be one-of-a-kind. That's because nothing is more refreshing than pairing a delectable, locally sourced dish with stunning waterfront views available here.  
George & Wendy's Seafood Grille
If a laid-back beach vibe is just your style and you're craving coastal plates to enjoy, make sure to make your way to George & Wendy's Seafood Grille at least once while you're in town. Located at 2499 Periwinkle Way, this popular eatery on the beach offers up a mouthwatering menu to browse as well as live music most nights and a gorgeous garden patio to enjoy that's pet-friendly too.  
The Island Cow 
Those looking for traditional American favorite dishes enjoyed by the sand will find them at The Island Cow on Sanibel Island. Situated at 2163 Periwinkle Way, this is one of the Sanibel Island restaurants on the beach that also boasts a great reputation built on tropical cocktails and live weekend music.  Cow-themed décor makes for a whimsical dining experience here while raw-bar options and mouthwatering burgers are bound to delight. 
Lighthouse Café of Sanibel Island
Starting your day with a hearty pancake breakfast and stunning beach views is well within reach at the Lighthouse Café of Sanibel Island. Found at 362 Periwinkle Way, this charming eatery also serves up deli-style delights and is within walking distance of nearby souvenir shops that are fun to browse. Key Lime hollandaise, granola hot cakes, and homemade strawberry preserve all top the must-try list at this lovely destination. If you're looking for a more robust evening meal to pair with your impeccable shoreline view here, options ranging from Yellowtail Snapper, Hogfish, and Prime Rib are sure to please the palate with ease.  
Enjoy Every Moment of Your Sanibel Island Adventure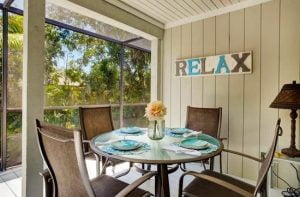 There's no reason to wait when you're ready to enjoy the best Sanibel Island has to offer in the way of flavor and fun. When you're looking for amazing accommodations to top it all off in style, the property professionals at Dream Vacation Rentals have you covered! Browse our exciting list of Sanibel Island vacation rentals to start turning those travel plans into an exciting and well-deserved reality. We look forward to welcoming you to sunny Sanibel Island soon!