When it comes to vacation destinations that offer up the best of small-town charm and scenic shorelines alike, Sanibel Island in Florida has it all. Its natural attractions make it endless appealing to travelers while the in-town fun is just as readily available. It's also a vacation destination that's been dubbed the seashell capital of the world! Hundreds of species of shells adorn the beaches here, providing guests with just as many reasons to get out and collect. From traditional shells to unexpected finds, visiting the seashell capital of the world promises to be a unique experience every time. 
An Oasis of Seashell Collection
Many visitors to Sanibel Island wonder how so many shells end up on its beaches and the answer lies in the topography. Sanibel Island runs west to east, and the beaches are paired with a broad underwater shelf. This combination allows for over 250 species of shells to wash up on the shoreline with ease on shell-heavy currents. Shells wash up on over 5-miles of sand here in the seashell capital of the world, giving visitors plenty of space to spread out and make the most of the collecting fun. At low tide, the Gulf-side beaches that stretch between North Captiva and the Lighthouse are particularly appealing for shelling. 
Types of Shells on Sanibel Island
The types and sizes of shells found across Sanibel Island are vast and varied. Visitors are always thrilled to find those one-of-a-kind sand dollar shells but there's much more to discover here. Species that wash up include everything from cockle and scallops to lightning whelk, Junonian, and conch. Keep your eyes closely on the sand and you're likely to also spot tulip shells, olive, coquina, and murex shells too.  
How Shells Impact the Ecology of the Area
Seashells that wash up on Sanibel Island provide for a colorful collection, but they also play an important role in wildlife and the overall ecology of the area. As shells collect on the sand, they simultaneously work to keep that sand from being swept back out into the water—effectively protecting the wellness of the beaches. Over time, these same shells are crushed by washes and external forces. This creates a new layer of sand in the long run.
Those shells that are still inhabited upon arrival offer up a variety of food options for fish and birds in the area. The shell filtering that happens among a variety of mollusks also contributes to cleaner Gulf waters. Sanibel Island is considered a refuge island and therefore, the state of Florida deems it illegal to collect live shells from the beach. These are shells that still hold a living specimen or mollusk. This law also extends to the protection of sea urchins, sand dollars, and starfish.  
Learn More While You're Here
While getting out and seeing the seashell capital of the world for yourself is exciting, there are places where visitors can learn more. While you're in town, be sure to check out the Bailey-Matthews National Shell Museum found at 3075 Sanibel Captiva Road. The museum is open daily from 10:00 am until 5:00 pm and offers up exhibits that highlight everything from malacology and conchology to the role seashells play in nature! 
Book Your Exciting Sanibel Getaway Today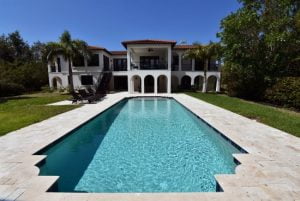 Making the most of your Sanibel Island adventure is easy to do when Dream Vacation Rentals takes care of your accommodation details while you're here. Our collection of captivating Sanibel Island rentals is sure to inspire and is suitable for travelers of all types. While our properties provide amazing amenities for guests, we're also happy to help provide insight on exciting area activities and attractions to check out to maximize the fun. Browse our options today and get in touch to learn more about how we can help you turn your plans into a travel reality!